April 2021 Community Engagement News
Happy Friday --
Here's a roundup of important information for this week. Please share with your friends and community members- you never know who might need it.
This month, we're exploring community stories from Merrick Moore as part of Our Community Stories video series. This event will take place April 30 at noon. RSVP and register for the Zoom link.
As always, let us know if you have any questions.
Wishing you health and happiness!
-Your City of Durham Community Engagement Team 
P.S. Did you get this email from a friend? Sign up to receive this newsletter directly.
Click these links to jump to sections:
Announcements | Public Input Opportunities | COVID-19
 Grants | Employment | Extras
---
Announcements 
Durham to Better Engage Underrepresented Communities with New Partnerships
Four local organizations have received funding to help City staff implement the Equitable Engagement Blueprint. They'll start with supporting GoDurham's Better Bus Project, which aims to improve bus stops and service. Read more about the new partnerships.
Library Walk-in Hours Begin May 4
Beginning Tuesday, May 4, Durham County Regional (East, North, South, and Southwest) and Branch (Bragtown and Stanford L. Warren) Libraries will be available at a limited capacity for one-hour walk-in visits to browse and check out materials or to use the computers. Face masks and temperature checks are required to enter. See open hours and more information.
Food for Durham Launches
United Way's Durham One Fund has launched Food for Durham to help Durham's local food and hunger relief nonprofits. Donate or volunteer, or for food and housing assistance, dial 211.
Public Input Opportunities
A New Way to Engage in Rezoning and Annexation Proposals in Durham
Do you want to provide input on Durham's zoning, planning, and development proposals? Check out the interactive map at the new Land Use Engagement Site.
COVID-19
Durham County Vaccine Scheduling Phone Line
Durham County Department of Public Health is offering vaccine appointments to anyone age 16 or older. To schedule an appointment, call (919) 560-HELP (4357). For location, parking, and FAQ, visit Durham County Public Health's vaccination page. Vaccines are free, even without health insurance!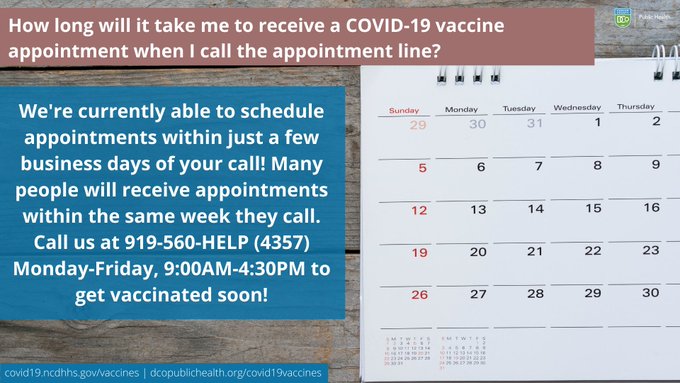 Rides to Vaccination Appointments
Need a ride to your COVID-19 vaccination? Call 1-844-771-RIDE (7433) or visit RIDE UNITED NC's website.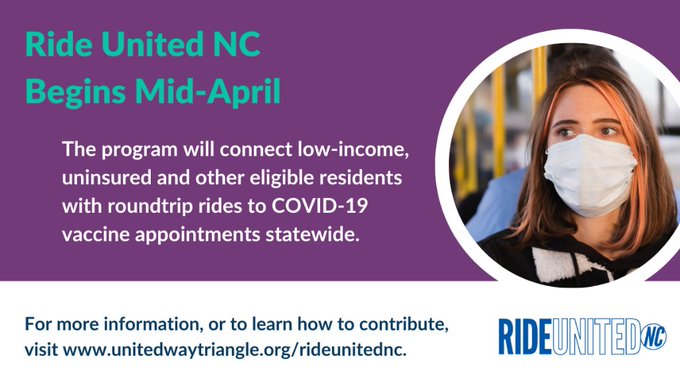 COVID-19 Email Alerts
Sign up for COVID-19 email alerts for information and guidance.
Grants
NC Extra Credit Grant - $335 Coronavirus Relief for Families
Most North Carolina families with children received an automatic $335 coronavirus relief payment last fall to help with virtual schooling and child care costs. Eligible families who did not receive the $335 check have another chance to apply through May 31, 2021.
Youth Leadership Fund
Need funding for community-based projects to support Durham's youth? The 2021 Durham Youth Leadership Fund is open to young people ages 13-24, community groups, and organizations, supplying one-year grants ranging from $500-$20,000! Apply by May 2, 2021.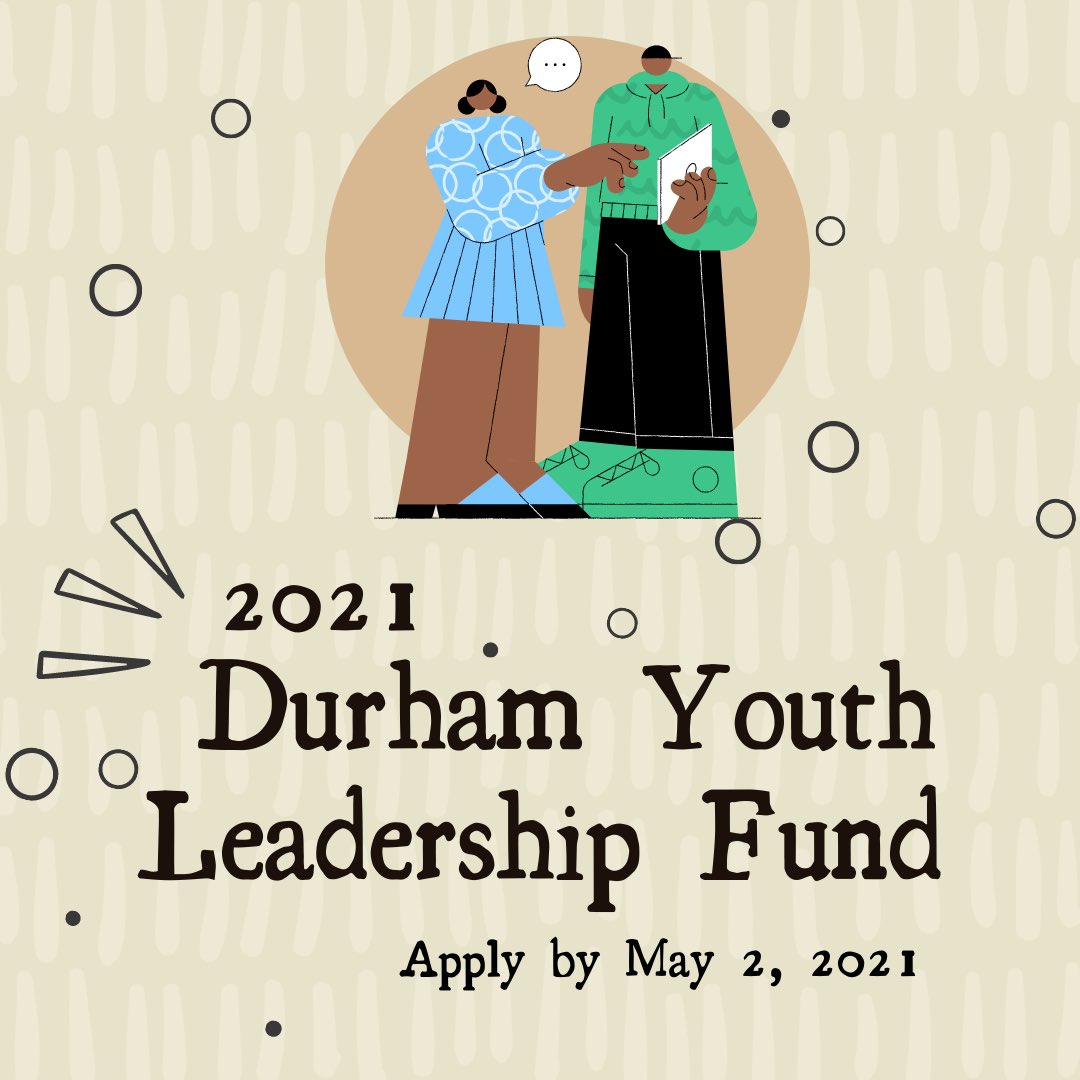 Employment
Durham YouthWorks Summer 2021 (Apply by April 25!)
Durham young adults ages 16-24 can now apply for the 2021 Durham YouthWorks Program. Online applications accepted until Sunday, April 25! Multiple paid, 4-week work-based learning sessions are offered. Learn more and apply online.
Lifeguards Needed
Full-time, part-time, and seasonal positions are available with the Durham Parks and Recreation Aquatics Team! $17.99-$20.25 hourly. Read qualifications and apply online.
Durham Station Public Art
Calling all artists! A project at Durham Station needs three temporary artistic sitting structures. Submit to the Pre-Qualified Artist Registry by April 30 to be considered. See the project website.
NC Works- Here To Connect You To Employment Opportunities
Take a look at their list of companies that are actually hiring! Log in or create an account on ncworks.gov. You can even apply on the go! Check out their online app. 
Extras
Merrick Moore Our Community Stories
Our Community Stories are conversations with recent and longtime residents of predominately Black and African American communities in Durham. This month, we're focusing on Merrick Moore. RSVP for the Zoom session on April 30 at noon.
National Crime Victims' Rights Week: Event
National Crime Victims' Rights week is April 18-24. DPD (Durham Police Department) invites you to an upcoming event:
Cold Case Sexual Assault Collaboration and Success

 

- As part of National Crime Victims' Rights Week, Sexual Assault Awareness Month and International Denim Day, DPD will highlight partnering agencies that were recipients of a recent SAKI grant.

 

Wednesday, April 28, 2021 at 12:30 p.m.

 

Register for the Zoom event.
Earth Day Celebration
Durham's Earth Day Celebration is Saturday, April 24 at Durham County Stadium! Enjoy concerts and conservation talks from your vehicle or bring your own chairs & sit directly in front of your vehicle. Three timeslots will be offered ranging from 11 a.m. to 6 p.m. This is a free event, but preregistration is required per vehicle! Paper shredding is also available by appointment. See DPR's website for performance schedule and more event details.
Camp Resilience for Girls 13-17
Girl SpeakOut Camp Resilience is back! Our camp counselors and special guests will introduce your girls ages 13-17 to new visual arts, mindfulness, health, wellness, financial literacy, dance, fitness, weekend adventures and more! Starts June 14. Register and find details.
April is Fair Housing Month
April is wrapping up, but our City's dedication to Fair Housing is not. Fair Housing Month celebrates the 53rd anniversary of the Fair Housing Act. Find fair housing resources.
---
This newsletter and past newsletters are also available on our website.
Thank you,
Your Community Engagement Team
Do you like this post?